Kolga Tbilisi Photo Meeting 2012
Exhibitions, Workshops, Portfolio Reviews, Lectures
June 7-14, 2012
American Contemporary Photography
Mistigris - German Contemporary Photography
Images Against War
Nigel Dickinson - Beyond Borders
Exhibitions curated by Tina Schelhorn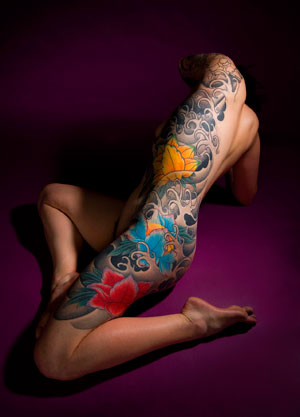 Michael Grecco

American Contemporary Photography

Mariette Pathy Allen • Stephen Althouse • Darryl Baird • Steven Benson • Paul Berger • Richard Bram • Kate Breakey • Luis Delgado • Susan E. Evans • Benedict J. Fernandez • Larry Fink • Jona Frank • Paula Gillen • Michael Grecco • Steve Hart • Karen Hoyt • Les Krims • Bill Kouwenhoven • Elliott Landy • Pok Chi Lau • James Lerager • Elaine Ling • Stephen Marc • Maurice Mattei • Jeff Mermelstein • William Messer • Felicia Murray • Dan Nelken • Justin Newhall • Laura Noel • Deborah O'Grady • Louie Palu • Michael Rauner • Chris Rauschenberg • Ken Rosenthal • Andrew Savulich • Dona Schwartz • Ann Simmons-Myers • Gordon Smith • Stan Strembicki • Arthur Tress • Toshi Ueshina • Brian Ulrich • Melanie Walker • Todd Walker

Ken Rosenthal
Mistigris - German Contemporary Photography
Dominique Auerbacher/ Holger Trülzsch • Andrej Barov • Ute Behrend • Barbara Burg/ Oliver Schuh • Dirk Gebhardt • Teona Gogichaishvili • Sibylle Fendt • Frederic Lezmi • David Klammer • Marc Räder • Frank Robert • Lukas Roth • Frank Rothe • Wolfgang Zurborn


Lukas Roth

Frederic Lezmi, Arabian Prospects


Images against War
"Friends, photographers and artists related in the past 25 years to Galerie Lichtblick and of festivals in Arles, Birmingham, Braga, Groningen, Houston, Perpignan, Plovdiv, Portland and their friends are invited to give their visual statement against war."
In February 2003, Tina Schelhorn, curator, and director of Galerie Lichtblick in Cologne, Germany, sent this e-mail around the world to her friends in the photographic community. Two weeks later, a website was launched with the work of 200 artists, and an exhibition of 250 images hung in her gallery "Babylonian hanging style".

Exhibition Images Against War at Gallery Lichtblick, Cologne, 2003

Densely displayed, the exhibition is an emphatic, yet nuanced, visual conversation about the causes and effects of conflict, wether large or small, and through photography reflects reality in a way no other two-dimensional medium can.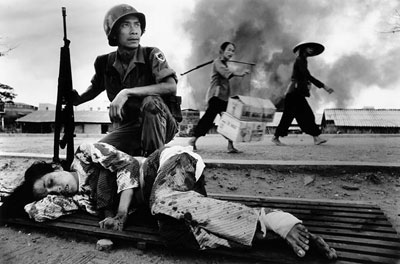 Philip Jones Griffith

Due to intense linking in the web the site had in March/April 2003 already 3 Mill. Hits and is constantly growing since. In nine years Images Against War that began as one woman's reaction to the US Invasion of Iraq, has grown to include the visual statements of more than 800 photographers from over 40 countries.
It also has evolved into a public projection and exhibition presented throughout Europe and America expanding with each presentation while absorbing contributions from regional photographers. Participants range from internationally renowned fine art photographers and Magnum photojournalists to students and archives with special themes like the Vietnam War.

Horst Faas


Nigel Dickinson - Beyond Borders
Roma are a people whose history is not written within one country's borders. They originated from India, traversing Asia as the Ottoman empire pushed towards Europe's frontiers. Enslaved by monasteries in Romania, many were later deported to the Americas. Their story is about diaspora, migration, persecution and ethnic cleansing. Sedentary or nomadic, they have a strong identity, with a rich and vibrant culture. They can be extravagant and ostentatious, though some in too many places, live in abject poverty.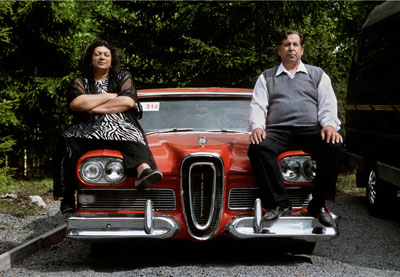 Nigel Dickinson, Beyond Borders


Timing for KOLGA Tbilisi Photo Meeting

Exhibitions

June 7th, 6 pm- opening at Zurab Tsereteli Museum,
- Mistigris - German Contemporary Photography
- Jacques Henry Lartigue
8 pm - opening of Kolga Tbilisi Photo Contest at Rikis Park (near Buddha Bar)
June 8th, 7 pm - opening - Nigel Dickinson at TBC Gallery
June 9th, 6 pm - opening Images against War at Underground Gallery
June 10th, 6 pm - opening - at Tbilisi History Museum (Karvasla)
- American Contemporary Photography
- George Tsagareli
June 12th, 8 pm- Award Kolga Photo Contest at Rose Garden Hall, Agmashenebeli Ave.
Workshops

June 7th -14th - workshops for international and georgian photographers
daily 10 am-4 pm at Rose Garden Hall, Agmashenebeli Ave.

June 7th-9th Workshop with Mimi Mollica, London - The Peaceful Hunter

June 11th-14th Workshops with:
Richard Bram, New York - Reality Condensed
Nigel Dickinson, Paris - Visual Story Telling
Pok Chi Lau, Kansas City - Cultural Heritage Traces in Tbilisi
Frederic Lezmi, Cologne/Istanbul - Tracking Tbilisi
William Messer, Cincinnati - Naked Truth
Gordon Smith, Philadelphia - Capturing a sense of place
Wolfgang Zurborn, Cologne - In the Streets of Tbilisi

Lectures and Portfolio Walk

June 9th, 10 am–12 am Talk with Teona Gogichaishvili/ Cologne, Steffi Schöne/Vienna + Frederic Lezmi/ Cologne/Istanbul
"Studying and Teaching in Germany + Awards, Grants and Artist in Residents"
12 am-4 pm Portfolio Walk - (Rose Garden)

June 11th, 6 pm Nigel Dickinson; Paris – "Roma Beyond Borders"
7 pm Richard Bram, NYC – "Between London and NY"
8 pm Pok Chi Lau, Kansas City - "Climbing the Golden Mountain"

June 13th 5 pm Tina Schelhorn, Cologne – "Images against War"
6 pm Gordon Smith, Philadelphia – "Occupy Movement"
7 pm William Messer, Cincinnati - "Campaign Against Censorship"
8 pm Wolfgang Zurborn, Cologne – "Theatre of Real Life"