Frederic Lezmi Next Level - Dubai





Dubai, nach Shanghai die zweitgrößte Baustelle der Welt, schoss innerhalb kürzester Zeit zum Knoten- und Umschlagsplatz weltumspannender Waren-, Kapital- und Menschenströme empor. Dieses Phänomen zwischen Kulisse und Hintergrund untersuchte der Kölner Fotograf Frederic Lezmi (1978) bei einem einmonatigen
Aufenthalt im Frühjahr 2007 mit seiner Kamera.
Den Blick lenkt er auf scheinbar urbane Orte und Plätze, wo das Angestammte/ Lokale auf das Importierte/ Globale trifft. Westliche Werte und orientalische Traditionen treten dabei einerseits in einen Dialog, prallen andererseits aber auch unmittelbar aufeinander – in jedem Fall beeinflussen sie sich gegenseitig.



Being the world's second largest construction site after Shanghai, Dubai became in record time a hotspot and trade centre for global flows of capital, labour and goods. With his camera, Cologne photographer Frederic Lezmi explored the phenomenon of a place that serves as both scene and scenery during a one-month stay in Dubai in spring 2007.
He draws the viewer's attention to apparently urban places where local customs meet imported offshoots of globalization. Values of the Western World and Oriental tradition enter into a dialogue, but they also collide with each other – anyway, there is mutual influence between them.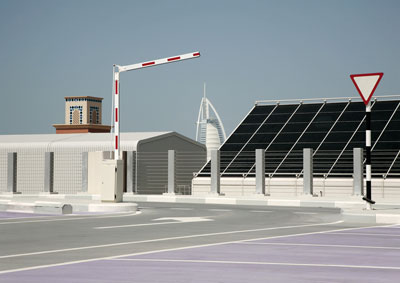 Galerie Lichtblick
Gesellschaft für fotografische Kunst e.V.
Steinberger Str. 21
50733 Köln, Germany
Fon + Fax: 0049 (0) 221 - 72 91 49
lichtblick@web.de
Fr 19-21 Uhr, Sa+So 14-18 Uhr


Die Ausstellung findet im Rahmen von ARTRMX COLOGNE VOL.01 statt.